ig

uy

lbum  
Our alaskan malamutes
---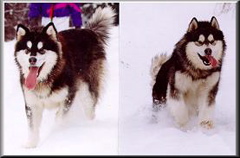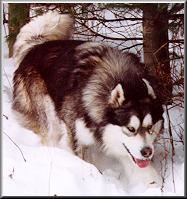 YUKONJAK ALASKAN MALAMUTE OFFSPRING HAVING FUN
OUR MALAMUTES ARE BIG GENTLE GIANTS AND THIS IS HOW WE DO IT THEY ARE BIG BEAUTIFUL BEASTS BUT NOT WITHOUT GREAT CONFORMATION AND BONE WHO STILL DESPITE THEIR LARGE SIZE CAN STILL EXCELL IN THE SHOW RING AND PULL A SLED BECAUSE OF THOUGHTFUL BREEDING PRACTICES AT OUR KENNEL TO ENSURE THAT THE MALAMUTE CAN STILL PERFORM IT''S JOB AND BE BIG AND BEAUTIFUL WHILE THEY DO IT .
WE BREED OUR MALAMUTES TO BE BEAUTIFUL AND POWERFUL BUT NEVER FORGETTING THAT BEAUTY ALONE IS NOT ENOUGH TO MAKE A GREAT DOG . IT MUST BE ABLE TO PERFORM ALSO AT WINNING AT WEIGHT PULLING COMPETITION , SHOW ,OBEDIENCE OR SLEDDING. WE NEVER BREED A MALAMUTE TOO SMALL WHERE IT STARTS TO LOOK LIKE ITS NEIGBOUR THE SIBERIAN ,NOR DO WE BREED AS TO MAKE THE MALAMUTE LOOK LIKE AS BIG AS A MASTIFF WHERE HE LOSES THE BEAUTY OF A MALAMUTE , WHEREBY HAVING THE MARKINGS BUT NO LONGER LOOKS LIKE A MALAMUTE ,'' THE BEAUTY OF A MALAMUTE IS THEREFOR NOT SEEN OR EXPERIENCED .
IN EITHER DIRECTION , TOO BIG OR TOO SMALL , THE TRUE ESSENCE OF THE SPIRIT OF THE MALAMUTE IS LOST .
"So if you want a Big Beautiful Bodacious looking malamute that will turn heads everywhere you look , than a YukonJak Malamute will not disapoint. We guarantee it"
BIG CAN BE BEAUTIFUL
---
The adoption of an alaskan malamute
The adoption of an alaskan malamute as a companion dog will hopefully be part of your household for many joyful years. The reasons for wanting a dog are numerous . You may want a friend to go jogging with you in the wee hours of the morning or just want a couch potato like yourself. You may want a a protector for your home and family or a playmate for your children . You may have dreams of showing your dog or entering into obedience trials or agility competitions.

Your reasons for wanting a dog as a pet will help you make a choice in the type of dog you really want and should consider. Before acquiring an alaskan malamute ,please consider hard these issues. There are all types of dogs. There are large ones and small ones and everything in between.Some breeds are good at sporting events while others are great for working and some yet for outdoor activities such as sledding .Some are just plain great for sitting on your lap and lavishing you with their love. Some breeds demand alot of on time because of their high energy needs ,traning and attention.
Cute cuddly puppies will eventually grow up . So before you choose a breed that is suitable for your needs evaluate yourself and your lifestyle. Don't choose a large breed if you live in an apartment . A better example is don't choose and alaskan malamute if you live in a side by side townhouse. Your neighbours will hate you . You may enjoy your malamutes lovely howls but your neighbours won't . You will likely have to move or place your dog up for adoption. This is only one example why choosing the right breed is important .You must take the time to evaluate all reasons and scenarios and adaptations for life now and should any occur in the future. Remember your choosing a friend not a stuffed toy. Make sure you have the time and the room for a dog in your life . Please also remember a dogs love and loyalty will reward you in many ways ,it is a gift from the grand creator himself. A pet will always likely give you more out of the relationship than it receive's itself. It seems that is how God designed it to be ,so by way of thanks and gratitude we should do our best to take care of His wonderful creations.
Other things to consider when buying a pet is your location as mentioned before . Look at your home ,is it more suitable for a toy poodle than an alaskan malamute. Are you in a bachelor apartment 10 floors up?? Think how you will exercise your new friend and where .Also consider how much time you have to devote to your new friend. Do you work ,do both husband and wife work and the kids in school .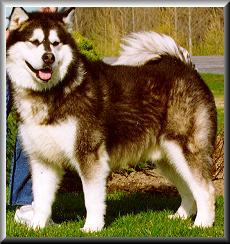 Maybe a dog is not in the picture at the moment .A puppy in training needs much of your time in his / her early life to be taught the rules of life and what is expected of him/her. While consistent training and handling is important , no puppy should be crated all day . I have been asked several times for advice in e-mails from people who have purchased a malamute puppy from an other breeder and are desperately seeking advice about crate training their puppy all day as it does not seem to be working. It does not take a rocket scientist to figure what the problem is.
All day crated ,all night crated then let out a few hours in the evening for fun . Does this seem right to you . Why some people see no wrong in this is beyond me. Some have even said they contacted their breeder who said that all seems ok basing that comment on the fact that the recommended crate size should be sufficient to hold him at length. I am very bewildered by that answer. I get this type of call for help often. So it seems to be a lack of knowledge on the breeders part or maybe just plain outright lack of care and concern for the dogs well being . To give such advice is awful as terrible .
Many people who own alaskan malamutes should not own an alaskan malamute. Many breeders are giving false hopes and information about this breed . Some people have called me to hopefully purchase a malamute and are surprised that when I turn them down. They received other information about the breed that is not truthful and all rosy. Breeders do a big disservice to the breed by doing so. I have seen some breeders websites advertise how well malamutes get along with other breeds and animals and go as far as calling it a myth that malamute is anything but a wonderful pet with all creatures including their own kind. Hog Wash I say to that. I too can raise a malamute pack family that tend to generally get along . But that is unique, not only is that unique , it takes skill and knowledge.
Most people are not going to own 5 malamutes or more and raise them together while young to form a pack relationship ,and even in that relationship there can be scuffles that will terrify the novice. These breeders leave the general public thinking that if they purchase a malamute that their malamutes are the norm and will get along just fine with all dogs , "WHY BECAUSE THEY SAY AGAIN MALAMUTES NOT GETTING ALONG WITH OTHER DOGS IS A MYTH".What a dangerous statement and shame on those breeders for not knowing the breed enough or not willing enough to give an honest rendition of general malamute disposition.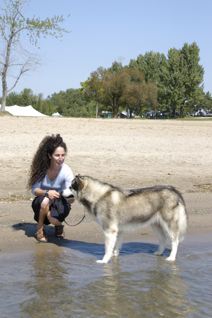 ?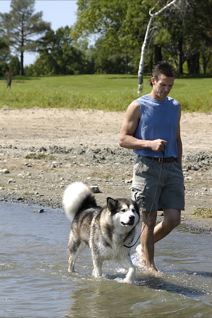 Many sledders know that malamutes tend to be the most dog aggressive in the bunch . Believe it or not a malamute is not for the faint of heart or for the person or family who is not organized and disciplined. Yes they are wonderful companions , and other owners make it look easy ,but deep down they had what it took the time to raise such a dog to where it is truly a lovely part of the family and a wonderful addition to society. And before I scare you too much , yes , with training, and many times, lot's of it , a malamute can get along with your jack russell or even your cat, but I can't stress enough the training relationship in all of this. Some malamutes are very dominant in their personalities which may make this difficult , some are more middle of the road. If you have a pet already ask your breeder to choose for you an alaskan malamute puppy that is not of the dominant alpha type. Trust the choice the breeder makes for you . So it is important that you choose a breeder that you can feel has your best interest at heart and is not only interested in your cash !!
But for every good story ,there are also bad ones. I am sure by this time you are thinking that I am saying that malamute ownership is just not a good thing . That is not so . It is a wonderful thing for the right type of people . An alaskan malamute can make your life a real pain and hassle if you are not prepared . They chew ,and heavily ,it can be cars ,siding ,houses anything . I am telling you the truth . Just go visit my "damage page " article.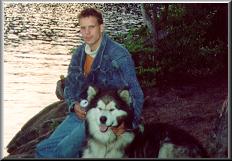 YUKONJAK'S KOBUK
Raising a malamute can be very rewarding and yes it can get along with your other family per if you have one ,but as said before ,it's all in the training ,training ,training............ I can't say enough about it .
Last but not least you must consider the financial cost that dog ownership requires of you .Below are a few examples.
1. Indoor bed
2. Crate.
3. Outdoor kennel
4. collars , leashes ,ropes ,toys
5. training
6. damage to furniture and outdoor setting by chewing or digging
7. food and treats
8. Spaying and neutering
9. vaccinations and general vet care
10. Emergency vet care , this can be costly ,pet insurance is a good thing for this.
11. Grooming , clipping
12. Your own brushes and combs
13. Fencing
And as stated above damage control. Puppies, especially large ones like the size of alaskan malamutes can do considerable damage. Not even the vinyl siding on your house is safe !!! Don't forget the sheep next door who may accidentally meet your lovely malamute!! It has happened and the outcome is not pretty . Malamutes are very prey oriented ,so be careful with your neighbour's cat. Warn them if they have a cat that your dog may treat it like prey . One day your malamute may be fine with your friends cat but that cat may decide to run and if it does for many malamutes that clicks off something in the brain that says chase it ,hunt it down. They won't eat it likely but it is a thrill kill and believe it or not ,a perfectly normal canine attribute. We just don't like to see it. To lessen this we can expose our malamute puppy when young to small animals in hopes that it will curb this drive to a lesser extent. I myself raise many of my pups with cats . Some readily adapt and treat them as friends as they get older but for some the drive is too strong . So sometimes it may work and sometimes not !

Also be prepared to know that your lovely alaskan malamute is quite capable of killing the neighbour farmers sheeps if you live in a rural area , which is why you should never allow your dog to run at will even in the wide open spaces of Kansas!! Your malamute may not only cause damage but also may be shot or hurt himself. Many a malamute who have been allowed to roam have been shot because of the fear that they may be a wolf or coyote hybrid. Where I live we have many farms and many coyotes and yes even the "Big Bad wolf resides not far off , but really they are not bad at all . They just do what comes natural . Coyotes are abundant where I live and many are shot because they are doing what they should to survive , kill and eat . We also have packs of wild dogs ,so many farmers are on guard here and I am sure it is the same for many other rural areas . Your malamute if allowed to roam will maybe one day do what comes naturally for it, and also pay the price for your mistakes . The farmer has a right to shoot if his livestock is in danger and who can blame him ,though not a pretty thought at all. If you think that your dog is not capable of such a thing then you don't know enough what a dogs natural instincts are.We as humans try to train and suppress much of that for our own enjoyment of dog ownership . But It is always better to be forewarned and prepared then to be taken by surprise. I have heard of wild dog packs with poodle mixes so it's not just wolfs coyotes or malamutes who have these instincts ,it's all dogs and it is better to remember that . ]
Now that you know some of the uglies of dog ownership , their is an abundance of wonderful reasons why a dog is a great addition to the family . These are easy to see. They are friendship and love, sharing with your dog life's your life's trials and joys . Loneliness can be made less lonely ,with a very good shoulder to cry on indeed , even a furry one . A playmate for your children , heck a playmate for yourself! Young or old all need to play . Animals of all kinds can teach us much about ourselves life and God . So if you are ready and willing to learn and teach , then your ready to embark on this new adventure.
The Herger's
---
SOME YUKONJAK DOGS AND A LITTLE HISTORY ABOUT OUR KENNEL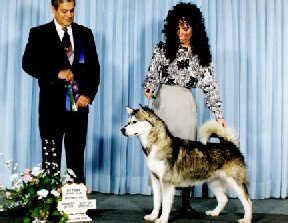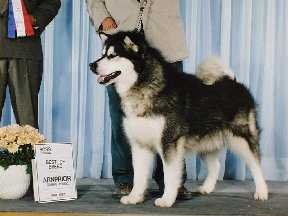 CASCADE'S LADY CHEELAH / CH. CASCADE'S SABRE BEAR-1996
Sabre came to us at almost 3 years of age if I can recall. He is now almost 15 and is still going.
Sabre was the second generation line I added to my first two lines of Kobuk and Isis. He was blessing to the kennel and I have been forever grateful to Madeleine and Nathan Sellers for letting me have Sabre so many years ago .Sabre is a combination of weight pull lines and old time show lines . I would say3 /'4 show 1/4 weight pull stock of exceptional quality that only Cascade lines can offer.
These dogs made and solidified what is now Called the YukonJak Look . Years later Holly was Added to our kennel for the addition of a fourth line. She was heavy on Storm Cloud and other wonderful kennels such as Goldust . Her father was am/can/int Ch. Tikoh's Golddust Silent Chase. She also added her own twist to the kennel and has helped in continuing to cement the look I desire . In the last 2 years we added , a wonderful stud from Snowlion kennel in California. We researched a new stud very carefully . We chose a kennel that we felt very comfortable with and also had the lines we were familiar with as they had some shared lines with our beginning lines .
Frodo, has we call him as been a blessing and has produced for us the same quality in looks that we strive for . The puppies he produces are no different in looks than what we already produced . So we have achieved our goal in adding a new stud without missing a beat by stirring the pot ! As one goes back , our pups almost look the same as my first malamute did 20 years ago when he was a pup. We strive to continuously, by selective breeding to make the best dogs we can , health wise and look wise. Our look is unique to us and therefore we try to keep the torch always going to keep sacred the original Yukonjak look !
Big beautiful Dogs with exceptional looks, great conformation and solid big bones .
---
BREEDING DOGS
Many people call or email wanting breeding dogs with full regsitration . I will say it right here in bold NO ONE GETS A BREEDING DOG WITHOUT DOING ALOT OF LEG WORK . I am tired of all the breeder enquiries or non breeders wanting full regsitration for getting into breeding . I have seen breeders who say they don't ever sell breeding dogs but right on their site they have them for sale if your willing to pay the price. Not sure how that helps the breed as a whole develop . They must know something I don't . Also there is so many people just wanting to breed it is incredible. I have seen where I have received an enquiry for a breeding dog , and turned them down and then that same person who said they just wanted a pet but wanted to keep their options open , have a full fledge kennel of 10 dogs the following year. This is so common now. The idea of growing into the breed out of passion and care and love is not a goal with many of these people . All I can say is how wrong is that!!!
How hard also is it for the regulur person looking for a companion to weed these breeders out of their choices It's almost impossible with all the slick websites popping up these days . I also hate it when breeders sell their dogs or pump their puppies in bold bold writting on their websites based on the lines they have , like they are some sort of commodity . Really just sucking off someone elses hard work . This approach is only fair if your truly a working kennel also and share genetics with other like kennels. Some breeders aquire buy accident great dogs with no effort , generlly this comes about becasue of the misfortunes of the original owner or sometimes poor judgent on someones part . Then I have seen these poor dogs get passed around and around on the internet from one kennel to the next. Sometimes you see it , great show lines , AKC or CKC champions background. Ask those same breeders if they show or work their own dogs too, then you will get a fuller picture. I am not a super purist where only the elite get to breed but really there has to be something . Are just conformation or weighpulling champions worthy of breeding some ask ? Likely not but it helps. I have met a few people who don't show who do a wonderful wonderful job with their breeding program , but get the phrase there, a very few. Eventually a small select group will stand out and be good wether they work their dogs or not . Many breeders would like to point people in the right direction but with the age of the internet it is so hard because people lie cheat and mislead . The best defense you have really is your gut I have learned, that raw deep down feeling that nags at you Trust it . Even with show kennels they are not all perfect either, I am not either but I really do try . Even the best of Breeders make errors and can make big ones we are human , but feel the heart of the breeder you are interested in not just the words. Sometimes a breeder may have to give tough love to some but it is for the well being for the dog and the people .
For the record : I do not sell breeding dogs even if the price is far beyound right which some have tried. The only people who get can get breeding dog are those I have deemed trustworthy , and trust me I am pretty good at figuring this out after so many years . Those people whom I feel have a true heart for the breed will have restrictions of co-ownership or non breeding until a Show Championship in their respective country has been achieved. I have even given dogs away to the right people whom I know will do right by this breed . I have very few breeding dogs out there from my dogs. In the past when I was more naive I let a few go as breeding dogs without the hoops , I don't do that anymore at all except for friends who I have known and I know will show the dog to a championship or to people I sense have the same firece protection of these dogs as I . So please do not email me for a breeding dog unless you have the heart of a lion for this breed and are willing to work work work !!!!!!!!
So with all this in mind be aware :
ALL ALASKAN MALAMUTE PUPPIES are SOLD with a NON-BREEDING AGGREEMNT THAT IS BINDING .
All puppies born to such puppies as adults will never be regisitrable with any worthy regsitry
---
SOME OF OUR BIG BEAUTIFL GENTLE GIANTS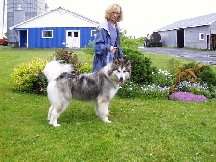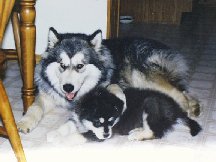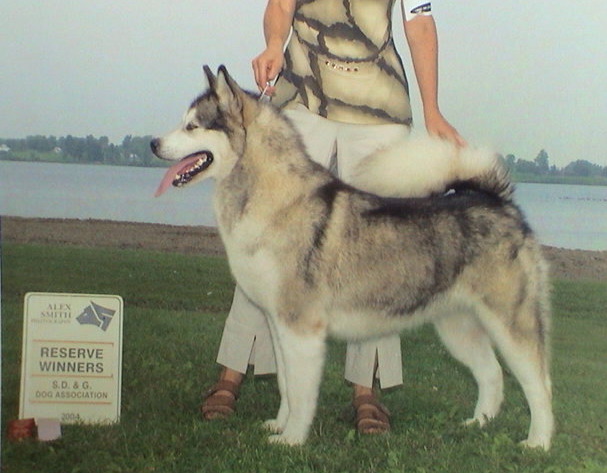 --FLICK--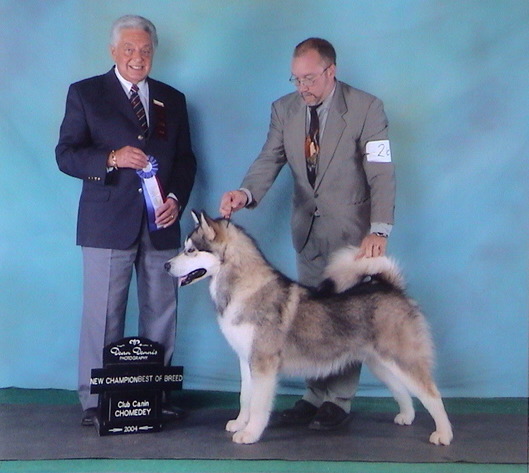 CH. SNOWLIONS-YUKONJAK'S MR.CHILL
-MALE-10 MONTHS OLD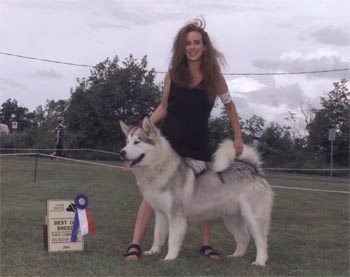 YUKONJAK'S SPIRIT BEAR-10 MONTHS OLD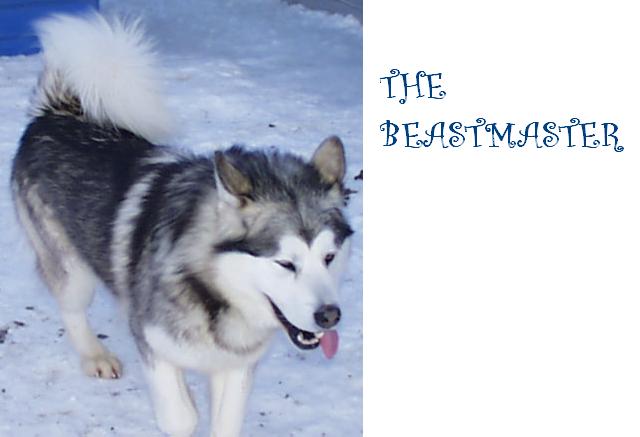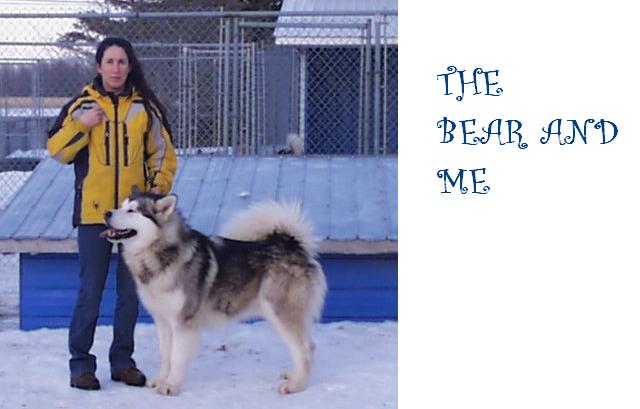 YUKONJAK'S SPIRIT BEAR NOW-BIG AND BEAUTIFUL WITHOUT LOOKING LIKE A ST-BRENARD BUT LIKE A BEAUTIFUL TIMBERWOLF
MALE
3 YEARS OLD
CH.YUKONJAK'S FLICKER OLU
-FEMALE- BIG BEAUTIFUL GIRL WITH GREAT BONE , HEAD AND SIZE.
AKA-FLICK
"YUKONJAK'S SHIVER ME TIMBER"
-FLICK AND BEARS SON-
10 MONTHS OLD ONLY AND AGAIN WINNING WITH HIS BIG BEAUTIFUL SIZE AND SUPERMODEL GOOD LOOKS
THIS MALAMUTE IS A BEAUTIFUL SUCCESSFUL BREEDING WITH MY 2 FAVORITE MALS FLICK AND SPIRIT BEAR .
"YUKONJAK'S SHIVER ME TIMBERS" 10 MONTHS OLD MALE PUPPY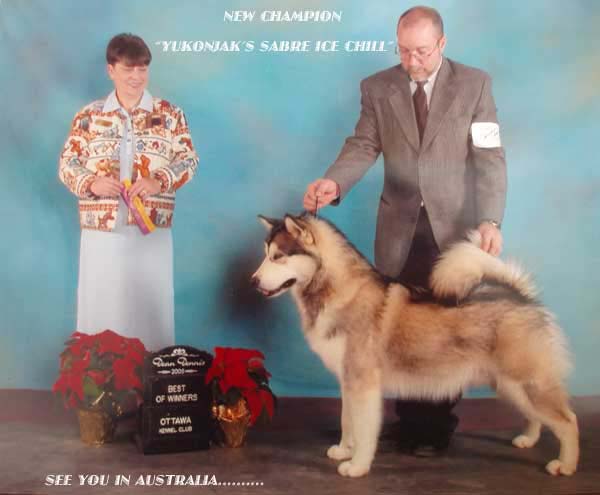 Ch.YUKONJAK'S SABRE ICE CHILL10 MONTHS OLD
MALE 10 MONTHS
Winning his championship at only 10 months old before he left for Australia .
(AKA-ARCHIE )
HANDLER : ROBERT LACROIX
OWNERS :JOHN AND LINDA BARNES , SYDNEY AUSTRALIA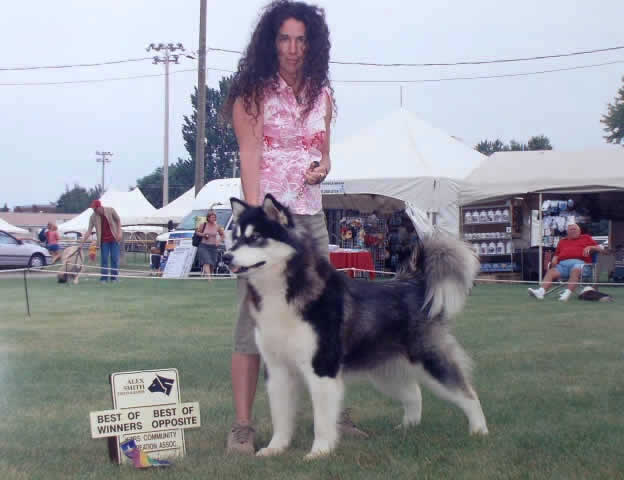 YUKONJAK 'S SEAL OF DISTINCTION (FEMALE-15 MONTHS)
BEAUTIFUL BIG GIRL WITH LOTS OF PERSONAILITY. TO ALL YOU WOMEN LIB FANS SHE DOES SO WELL IN THE RING AND GIVES MANY MALE MALAMUTES A RUN FOR THEIR MONEY BECAUSE OF HER SIZE AND SPIRITED NATURE WHICH CAN BE GENTLE AND FIERY . WHAT A BABE!!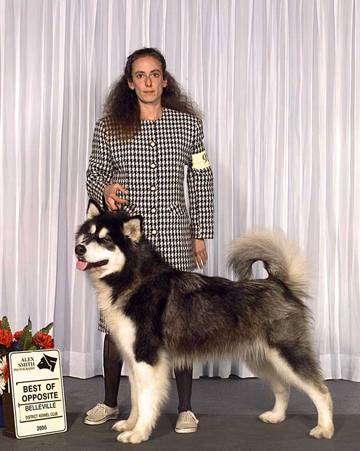 CH. YUKONJAK'S SEAL OF DISTINCTION-(AKA-OOKY) With Tanya Hawley-owner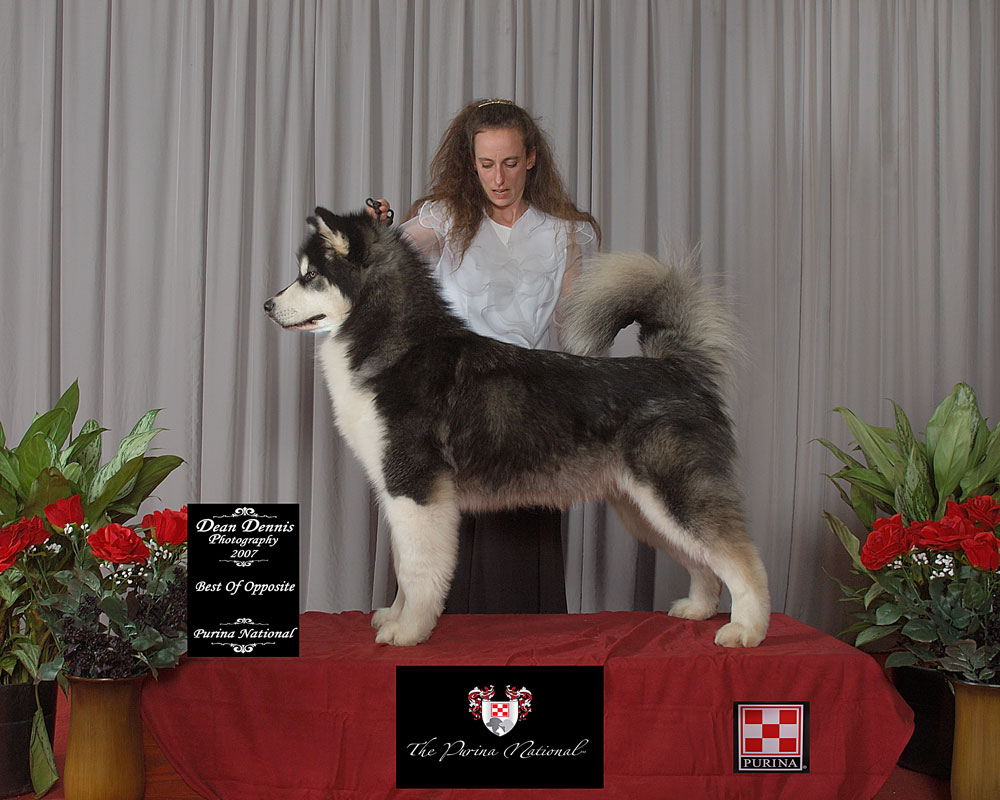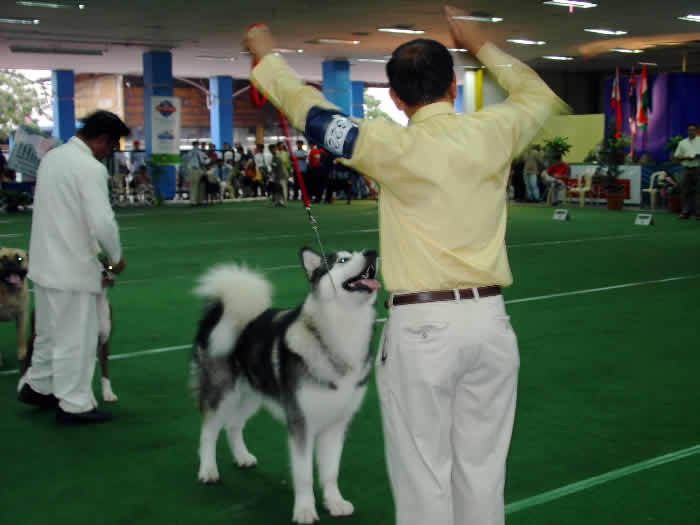 NIKE- THE PHILIPINNO STUD.
HERE NIKE IS BEING SHOWN BY HIS HANDLER WHO IS TRYING TO GET HIS ATTENTION IT SEEMS BY DOING THE WAVE . I GUESS NIKE WAS A LITTLE BORED . NIKE IS A TRUE GENTLE GIANT WHO''S NATURE IS VERY QUIET AND SWEET. HE IS FROM WHAT I HAVE HEARD FROM HIS OWNER TINA AND JOJO FROM MANILA HE IS THE BEST DOG WITH A SWEET PERSONALITY WHO LOVES PEOPLE AND IS NEVER TOO EXCITABLE AND EVERYWHERE HE GOES PEOPLE WANT TO STOP AND TOUCH HIM . IN HIS NATIVE CITY MANILA IN THE PHILIPINES HE IS WELL KNOWN AND IS CONSIDERED A DOGGY CELEBRATY IN THE LIKES OF A BRAD PITT COMPARISON . WAY TO GO NIKE FOR BEING A GREAT SPOKESDOG FOR OUR OTHER FEELOW MALAMUTES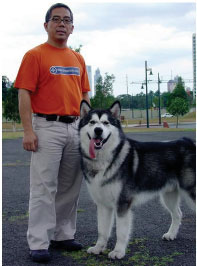 YUKONJKA'S NIKE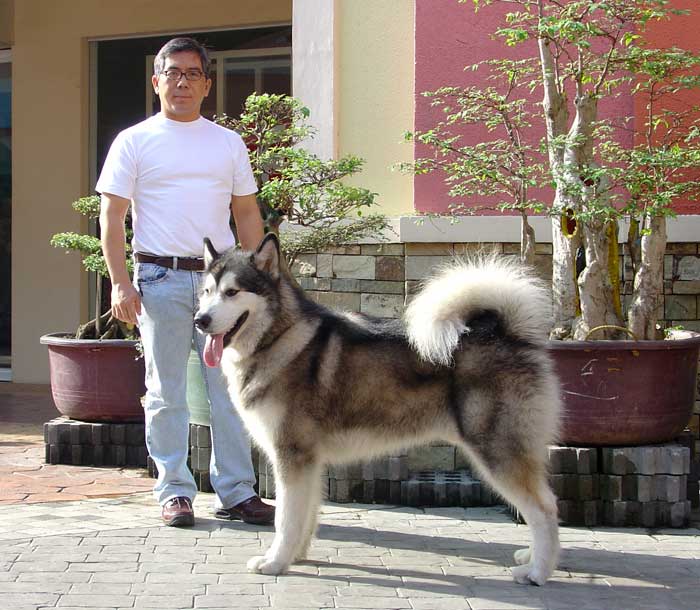 YUKONJAK'S NIKE
OWNERS : JOJO AND TINA -MANILA , PHILIPINES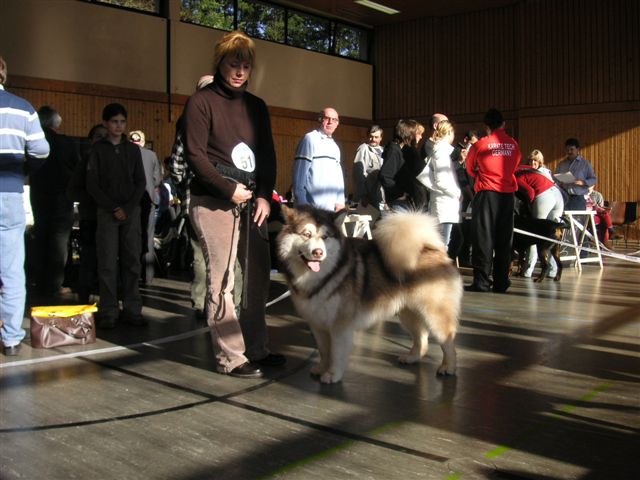 Europa Sieger 2007 Dog show
Sponsored by :ARC Dog Club in Germany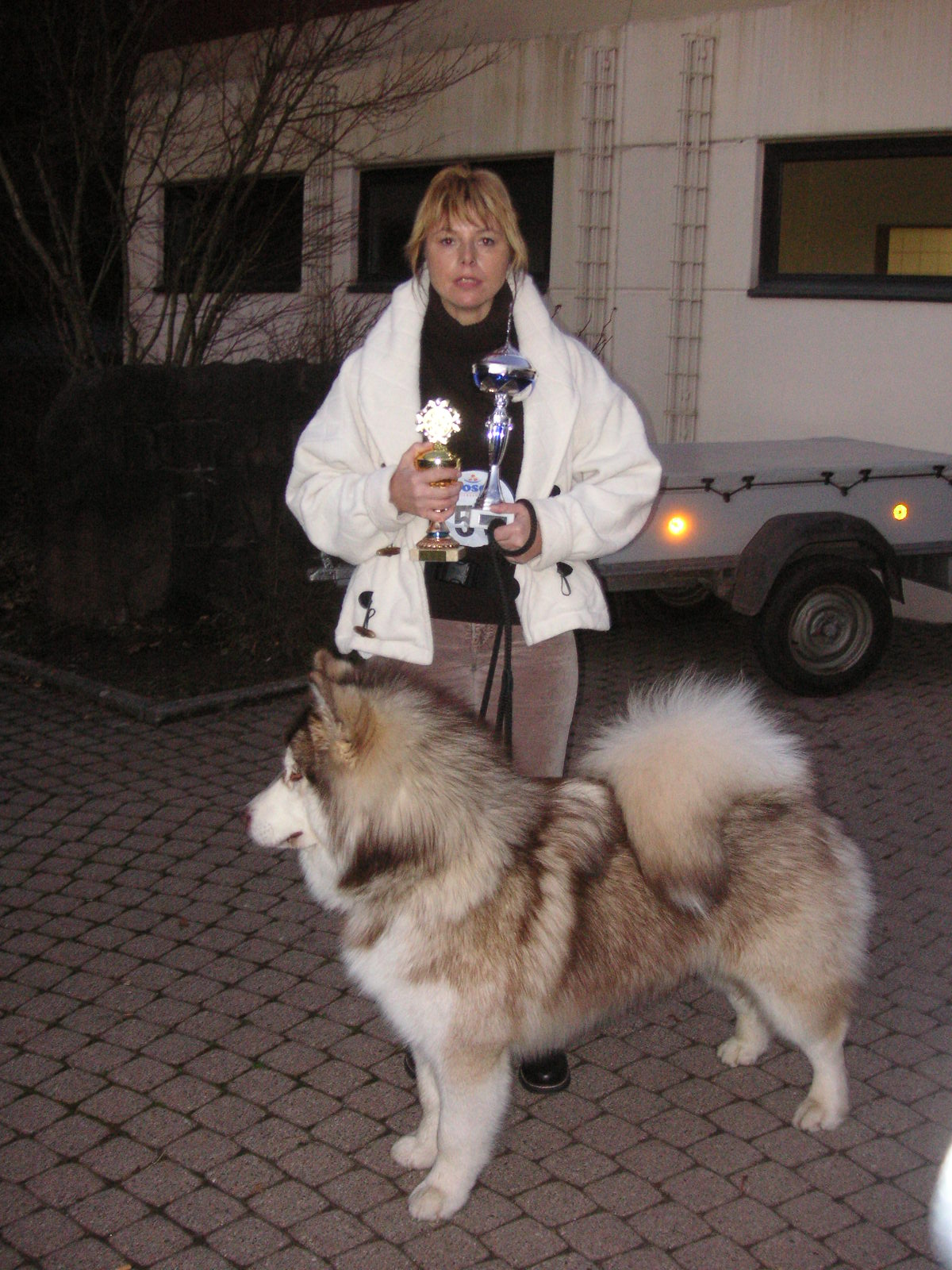 THIS IS CHRISTINE AND HER DOG BENNY AT THE DOG SHOW WINNING HIS VERY FIRST SHOW HE IS 10 MONTHS OLD
THIS IS WHAT SHE HAD TO SAY . SHE WAS THRILLED
"Bennie was awesome. He was the only Mal at the
show but was judged individually for his breed. He got a SG1 which is the
highest mark you can get in his age group. That qualified him for the honor
ring which means all breeds with this rating from the age of seven to 16
month and taller than 18 inches. They divided males and bitches. We were
about 25 dogs in that end ring . Bennie placed 1st a Great Dane 2nd and a
Collie 3rd. The judges loved him. When that one judge shook my hand he
congratulated me for having "a magnificent animal".
---